Come one, come all too a spooktacular fall! Get your ghouls together & have the Halloween party of the season. From mummy inspired entrees to creepy cocktails, you & all your guests will be ready to dance the monster mash until the break of dawn! 
Food
No matter the season,we love a charcuterie board. Make yours graveyard themed with silly skeletons, pumpkin cookies, and all your favorite fall treats. Save some spiders for us! 
A little salty, a little sweet, these spider webs are quite the treat! Pick your favorite chocolate (we love a delicious dark chocolate!) and drizzle over pretzel sticks for a quick spooky snack.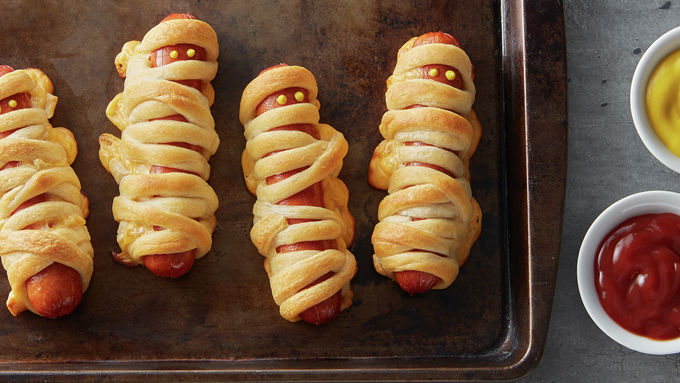 Halloweenies anyone? Croissant wrapped mummy dogs will keep everyone's craving for something savory satisfied. 
Cocktails
Image provided via: Pineapple & Coconut
Jeepers, creepers, check out these peepers! These Lychee Matcha & Blood Orange Martinis are the perfect sip for your spooktacular. Your party goers won't be able to take their eyes off of them! 
 Image provided via: Sugar & Cloth
If you're here for the boos then these cute little ghoul shots are a must! Super simple & sure to delight, these ghosts will make the night. 
Decor
Flickering floating candles right out of Harry Potter & cauldrons full of treats will set the mood for an evening of fun! Grab witches hats for an extra spooky touch! 
Head to your local pumpkin patch for all things fall, and carve out jack-o-lanterns for welcoming decor. Here are some carving tips from the queen of decor herself Martha Stewart. 
What's a halloween party without freaky fog & spider webs? Whether you have a fog machine or just a big bowl & dry ice, the ambience will just scream Halloween. Plus, the bigger the spider web, the less you have to worry about flies. 
Ghosts & goblins will gather round for the best party in town! We hope you enjoy these silly & scary delights at your Halloween get togethers. Need help picking a costume? Check out our costume blog! And don't miss out on our latest fall drop. Happy haunting!
 For more style & travel inspiration, follow us on Instagram and Facebook.